In conjunction with The Luxurious Fashionista turning one in a couple of days *wooohooo!*, I'll be holding a
"mini virtual party"
to thank you darlings for all the support you've been providing me since I started this bagaholic review blog exactly a year ago.
So, what will we be having for our mini virtual party, you ask?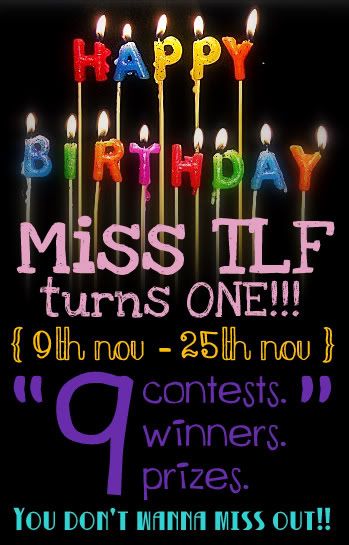 Miss TLF will be holding
9 contests
from the period of
09/11/09 - 25/11/09
.
And as per usual, with every contest, we have winners, yes? *big big grin*
We've got 9 awesome grand prizes to give out!!! Mark my words,
AWESOME PRIZES
!!!
I promise they will simply blow you off your mind alright! They are so amazing I want to keep every single prize to myself, but I shall not. Because...
Ooooh, so cheesy! *shy giggles*
Right, to some boring admin stuff that you gotta keep in mind before we kick start:
Every contest will go on for TWO days only unless otherwise stated.
They will all begin at 12am at any random day. ;) (Yeap, that's to say, you will just have to pop by everyday from the 9th Nov to 25th Nov to check if we've got anything up.)
Ensure that you adhere to the rules and email format stated in the contest post respectively, otherwise you will be disqualified for the contest.
And oh, there's one thing you need to take note of; VERY VERY IMPORTANT alright. And that's my email add:

iamtlf@live.com
Here's a
tiny weeny
sneak preview of what you'd be expecting to walk home with, say if you win any of the contests:
That's not it alright! We've got more bags and plenty of cash vouchers too! ;)
*squeals in excitement*
And yeap, here's our list of contests:
CONTEST 1: Happy Birthday, Miss TLF!
CONTEST 2: I'm addicted to you!
CONTEST 3: I'm a fashionista!
CONTEST 4: You heart bag!
CONTEST 5: I love you, you love me?
CONTEST 6: I'm a crazy INSANE bagaholic!!!
CONTEST 7 : Mine, mine, mine!!!
CONTEST 8: I've been stalking you!
CONTEST 9 : Hangover After-party!
The names of my contest are quite corny, I know. *laughs out loud*
But yeap, the tricky bit is you won't get an idea of what the contests are all about until the day it is posted; and you will also not find out what prizes are allocated to which contest, so do make sure that you watch out for all of them! :D
Miss TLF turns ONE mini virtual party is proudly sponsored by: